SSD vs HHD
What are they?
SSD is a Solid State Drive. In very simplist terms, it is like computer chips that holds data. They function like an HDD, but data is stored on flash-memory chips that retain the date, even when the powe is off.
HDD is a Hard Disk Drive. In very simplist terms, it is magnetic discs that holds data. Traditionall they have spinning hard drive is the basic non-volatile storage, and the data stays on the disks until you need it again, even with the power goes off.
SSD's are smaller, quieter as there is no moving parts, use less power and faster than HDD's will every be. There is some dispute about durability of SSD's.
HDD's are larger, can make noise as they get hotter as they have many moving parts and hold a lot more data than SSD's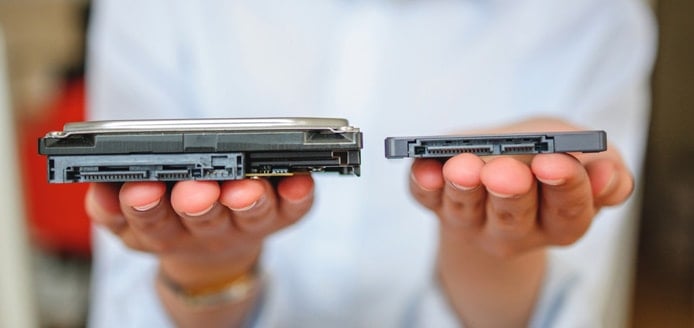 A bit of History of hard drives. It is known to have started as far back as 1956 with IBM and got smaller and smaller as time progressed to todays standards. I recall using 5.5 inch floppy back in the 80's to the now 3.5 inch HDD's. Then came along the SSD's at 2.5 inch wide and improving.
To Summerize everything in life has its pros and cons. We all have to out way them and make our dession based on the needs at the time. I just have one tip and that is to use and external hard drive to store your data regardless of which drive you pick.
Here is a list of some great websites that give a lot more detail about both SSD's and HDD's and there comparitions. Each of these links show and discribe the tiopic in different ways.
Happy Surfing!
---